Petromin Express: at the wheel and under the hood
Saudi Vision 2030 recognises and promotes Saudi Arabian women as a vital part of the Kingdom's strength, aiming to develop their talents and provide them with opportunities to build their futures.
Driving diversity
Conscious that even globally it is rare to find women in mechanical workshops and oil change outlets, the teams at Petromin Express and Petromin Auto Care knew a concerted effort would need to be made to break the stereotypes and bring women into their frontline workforces.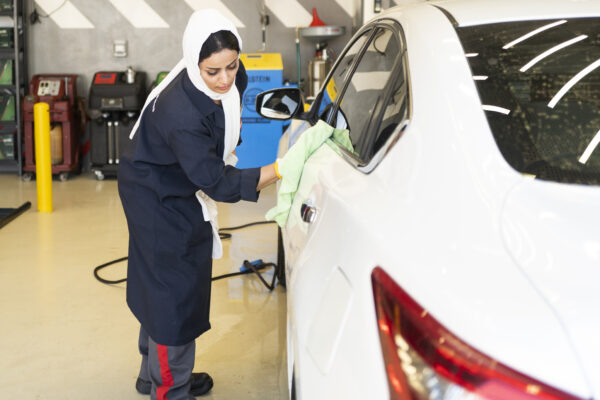 Growing equality, growing business
At Petromin Express, a carefully targeted recruitment drive began. Once the first hires had been made, classroom and on-the-job
training followed before fulltime placements were made in two of our Jeddah outlets. Both outlets have seen a rise in glowing online reviews, national and international news coverage, and a significant increase in customer numbers, as more female vehicle owners enjoy the customer experience of interacting with female technicians. The work has earned media coverage across the Middle East, Pakistan, India and Indonesia. It's all reflective of Petromin Express' commitment to customer service, which has seen them win four gold awards at the Gulf CX Awards in 2022.
At Petromin Auto Care, so far four women are on track to become fully certified auto technicians and the recruitment drive continues. The ambition is to have the first female branch manager by 2024.